4 Fossils and coins (Jánovas Narrow Pass)
Fossils and coins ((Jánovas Narrow Pass)
Localización: Promontorio bajando al rio Ara, enfrente del pueblo de Jánovas.
Coordinates 30T0259638 UTM4685188
Textos Esperanza Fernández (Geopage)
Many of the rocks that appear in the surroundings of Jánovas contain numerous small, disc-shaped fossils called nummulites.
Although they may reach 6 cm in diameter, the nummulites were not animals, but protists: living beings formed by a single cell able to segregate a calcite (CO3Ca) skeleton shaped like a lentil and with numerous internal, interconnected cavities. One part of the living organism's cell occupied these cavities and another surrounded the shell externally whilst at the same time sending out a few extensions in the form of long, fine threads, which it used to move and catch food.
Nummulites live buried upright in the mud that accumulates at the bottom of warm, well-lit seas. The cell of each nummulite houses thousands of microscopic algae. In return for shelter, the alga provides food for the nummulites, promoting its rapid growth and multiplication.
Nummulites were abundant throughout the Eocene period, which lasted 22 million years. As a result, Eocene limestones formed from the shells of these organisms are abundant today.
Reconociendo géneros de nummulites
Las conchas de nummulites atrapadas en las rocas suelen aparecer seccionadas. Hay dos tipos de secciones: axial y ecuatorial.
Observando las secciones pueden reconocerse algunos géneros de nummulítidos. Aquí te mostramos las secciones axiales de los tres géneros más comunes en estas rocas.
Life strategies
Ordered accumulations of nummulite shells can frequently be seen in the rocks around Jánovas. There is a complex explanation for this: the muddy bottom where these rocks were formed was inhabited by crabs living in tube-shaped burrows. These crabs lined the walls of their burrows with a multitude of empty nummulite shells. The shells acted as a surface on which tiny algae could grow, and these in turn served as food for the crab. Thus, the more shells there were in a crab's burrow, the more food there was for the crab.
En las siguientes fotografías se pueden observar acumulaciones de caparazones de nummulites debidas a la actividad de construcción de morada de un antiguo cangrejo. Se observa cómo la distribución de los caparazones no es al azar sino que están unos sobre otros formando círculos o cilindros, en función de cómo está siendo seccionada la acumulación
.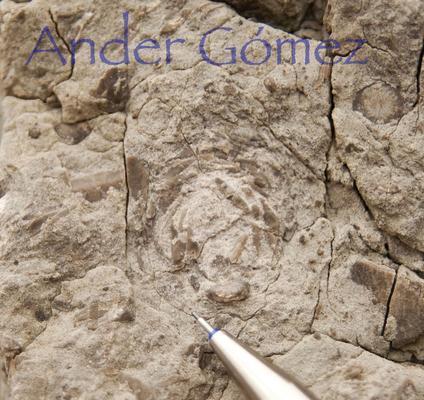 Did you know …?
The scientific name Nummulite refers to its coin-like shape (from the Latin nummus, coin, from which the word numismatics is also derived). It seems clear that this before this scientific name was assigned, a similar popular name already existed for these fossils, called dineretes (small change) in many of the villages where they are abundant, including some in the Comarca de Sobrarbe, such as Sevil or Santa María de Buil.
Interesting geology:
In 1913, the English geologist Randolph Kirkpatrick published a book entitled The Nummulosphere, in which he proposed the hypothesis that all the rocks on the planet were formed of nummulite shells. Although this idea is completely wrong, it gives an idea of the importance of these organisms in the formation of rocks.
Recomentations in your visit to Sobrarbe-Pirineos Geopark
Safe visits, unforgettable experiences. There are companies who collaborate with the Geopark where you can hire specialized guides to make your tour a unique and safe experience.
Respect the geological outcrops. Do not break off samples of rock, mineral or fossils.